Customer Reviews
Write a Review
Ask a Question
Perfect Gold Evil eye ring
My evil eye ring has exceeded my expectations. The process and delivery were both quick! I really appreciate the fact that the customer service representative took the time to talk with me regarding my purchase. They come out as really kind and considerate. Please purchase this ring if you are interested in it. It is really stunning and well worth your money. In person, it's much more attractive. I'm very glad I bought this ring.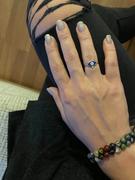 Beautiful ring
This ring is as sturdy as it is beautiful. I love it. So comfortable that I haven't taken it off. This is quality. So much jewelry today is flimsy. Not this ring. If you are looking for an evil-eye ring then this is the one.
wearing my favourite new pieces from gelin
great quality
Great quality! Came exactly as I ordered it and it was very quick! I really loved the packaging it came in too.
gorgeouss
It took a little long to arrive, but I believe well worth the wait. Very lovely, appears to be well-crafted, and is rather little. I'm pleased with my buy.