Customer Reviews
Write a Review
Ask a Question
tiny
It is precisely as depicted—tiny. I believe I misinterpreted "small" as still being viewable, but it's not. It's extremely, incredibly little. If that's what you're searching for, here is the place to be. It's nicely packed, arrived on time. I bought it as a present, SO this is just my view, if you enjoy little and very petite jewelry, go for it. It IS adorable!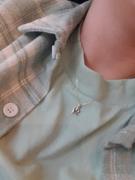 Minimalist
Its really tiny and cute. If you don't like minimalist jewelry you won't like it but I find it cute. You can even stack it with other necklaces.
vsco girls can shut their mouth off
bought this one because all of the vsco girls have it. but I didn't wanna be as ordinary as them so I bought from THIS brand. this one made me different, thanks:) really loved it.
gift for a daughter
My husband and I bought an "a" necklace for our daughter who has recently learned how to read :) We said if you learn reading completely we'll buy you more. she is very happy, thanks
for granddad
i bought an initial J for my grandad James' memory. when i'm wearing this necklace i could feel him while looking good, hahaha. thanks