Customer Reviews
Write a Review
Ask a Question
thin but strong feel
This necklace is soooooo good! The shamrock was little smaller than imagined, but it is sooo cute anyways. I wore it for 3 days and already received several praises. The chain feels really strong even though it looks really thin; most necklace chains are weak, but not this one. It's a wonderful deal with this price for a real solid gold, especially if you get the matching earrings.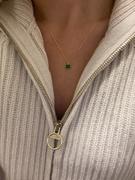 color is so good
The color is so good. Not a fan of gold but if it has color it attracts me
great design
Great design. Love clover.
chain:/
I mean necklace is so great! The pendant is something definitely to keep but the chain is so thin:/ Maybe I could get a thicker chain from here in the future.