Customer Reviews
Write a Review
Ask a Question
Great and careful brand
It's a smaller pendant than I imagined, but it's still lovely and well-made. This is my fourth bracelet from this site, and I will continue to shop there. I adore the delicate design and thoughtful customer service. Even exchanged my 2nd necklace without a questions which is broke after 5 months.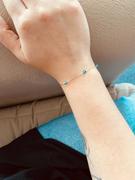 top 5
This bracelet is definitely in my top 5 favourite jewelry. I'm so glad my sister showed me Gelin.
Exactly like the photos
Delighted with how this bracelet turned out. It looked good on the photos but I still wasn't sure if it was as pretty. Yet it was!
So elegant!
It's so much better than I hoped. It looks so elegant and the beads are in a really nice blue color. It's a buy!
Highly recommend
The bracelet came in a beautiful dark blue box. The bracelet was also beautiful, didn't disappoint at all. Highly recommend this brand.
Great in stack
Bought it to wear as a stack with other bracelets and they all look great together. Especially this bracelet and the thick chain they have go together perfectly.
Delicate yet strong
Looks delicate but it actually feels strong. And the packaging was pretty elegant, too.
a piece from my angel
My mother gave this bracelet to me before she died. Rest in peace mom, part of you is always with me :)
signature piece
If I were a princess I guess this bracelet would be my signature piece..wait actually it already is :)